view all news
Complete Story

08/10/2020
Virtual Summit for Diabetes Healthcare Providers
---
Ohio ranks in the bottom quarter of states with 12.2% of its adult population having diabetes. Therefore, the impact of managing diabetic patients has become a critical part of not only primary care practices, but many different specialties as well. Through our Healthier Ohio 2020 initiative, OSMA is committed to working with our members and other organizations to best advocate for policy changes and inform physicians of best practices to improve chronic disease management—and ultimately make Ohioans healthier.
---
On October 3, the Diabetes Institute at the Heritage College of Osteopathic Medicine will be holding a virtual summit on diabetes care. The goal of the gathering is to improve the diagnosis, management and treatment of prediabetes and diabetes.
---
Click the image below to register: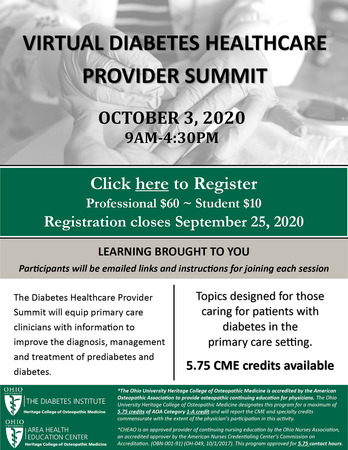 ---

If you have questions about this information
or OSMA's services to physicians:
Call 800-766-6762 or email OSMA.
---