view all news
Complete Story

09/16/2020
Governor Signs COVID-19 Immunity Legislation into Law
---
This Monday, September 14, Ohio Governor Mike DeWine signed legislation into law which will expand civil immunity for health care and service providers during the COVID-19 pandemic.
---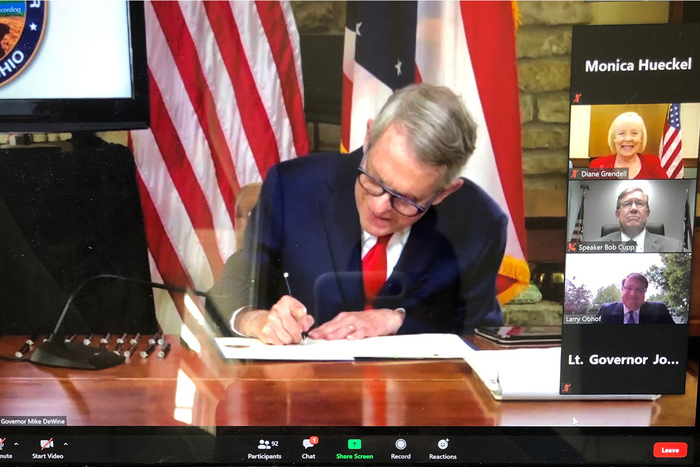 OSMA reported several weeks ago in a special alert that HB 606 had passed in the legislature after months of advocacy work, and this week, OSMA staff was on hand to participate in the virtual signing ceremony for the bill and watch the Governor sign it into law. With the passage and signing of House Bill 606, physicians and those on the front lines of the healthcare system can rest assured their voices are being heard, and they will be given additional protections in the face of unprecedented challenges during the pandemic.
As a reminder, HB 606 was sponsored by Rep. Diane Grendell (R-Chesterland), and it generally:
Supersedes existing law regarding disaster-related qualified immunity and provides immunity from wrongful death actions.


Applies to health care providers including physicians, nurses, home health, long-term care and hospice providers, and other medical professionals.


Provides immunity for any health care services provided "as a result of or in response to a disaster or emergency." This includes an act of omission in providing care, decision related to providing care, or compliance with an executive or director's order put in place to respond to the disaster/emergency.
The legislation is intended to apply retroactively to instances since March 9, 2020, and will be effective in 90 days. The end date for the bill's provisions is September 30, 2021. HB 606's liability reforms related to the COVID-19 emergency/disaster should protect physicians from future claims, if any, for actions taken during this healthcare crisis. The bill was written with a broad approach in an effort to account for the vast array of possible scenarios, and immunity provisions related to emergencies and disasters are well established in law. Even so, the strength of the protections will only be tested if claims are filed and the protections survive court review.
OSMA is thankful for the work of sponsor Representative Grendell as well as Speaker Bob Cupp (R-Lima) and Senate President Larry Obhof (R-Medina), along with Senator Matt Huffman (R-Lima). These legislators all worked with OSMA to ensure HB 606 advanced across the finish line and made it to Governor DeWine's desk.
---
---

If you have questions about this information
or OSMA's services to physicians:
Call 800-766-6762 or email OSMA.
---