view all news
Complete Story

12/09/2021
Economic Impact of COVID on Medicare Physician Spending
---
The AMA recently released updated information and resources regarding the impact of COVID on Medicare physician spending (state and specialty specific data is available) for all of 2020.
---
As we know, utilization of physician services in the U.S. fell sharply with the onset of COVID-19. there was a steep decline in MPFS spending in March of 2020. A strong recovery in May and June stalled in the second half of the year and spending never recovered to its pre-COVID trend. For the year, the estimated shortfall in MPFS spending associated with the pandemic was $13.9 billion (14 percent), with reductions for all states and every major specialty.
Telehealth spending increased dramatically in 2020, but use was concentrated in a handful of service categories—and not close to the level to offset the reductions in other areas.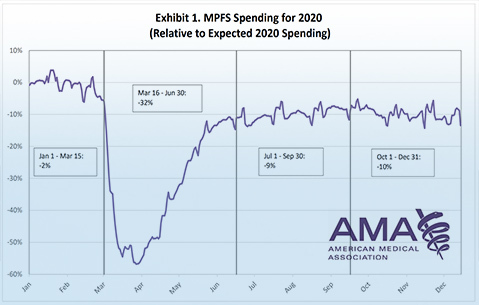 ---

---