view all news
Complete Story

03/01/2022
Ohio Launches Mental Health in the Workplace Toolkit for Employers
Today's workforce is under unique pressure that can lead to anxiety, feelings of instability, withdrawal, and the possible need for counseling and care.
The Ohio Department of Insurance (ODI) recently launched an employer toolkit, in collaboration with RecoveryOhio and the Ohio Department of Mental Health and Addiction Services, designed to promote mental health in the workplace and empower employers and employees for wellness success.
The toolkit includes meaningful information about mental health and substance use disorder insurance and navigating benefits.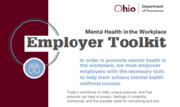 ---
Also remember OSMA's recent launch of OSMA CARES—the well-being checkup tool which provides a free, simple and anonymous way to evaluate your mental and emotional health.
Using the CARES tool is quick and easy, and provides a questionnaire—which takes 10 minutes to complete. Then, a licensed mental health professional will review the answers and users will receive a personalized response with recommendations for next steps. Users can choose whether they'd like to connect with the licensed mental health professional to establish a helpful relationship for further action. All participation is completely voluntary 
and anonymous. ---

---